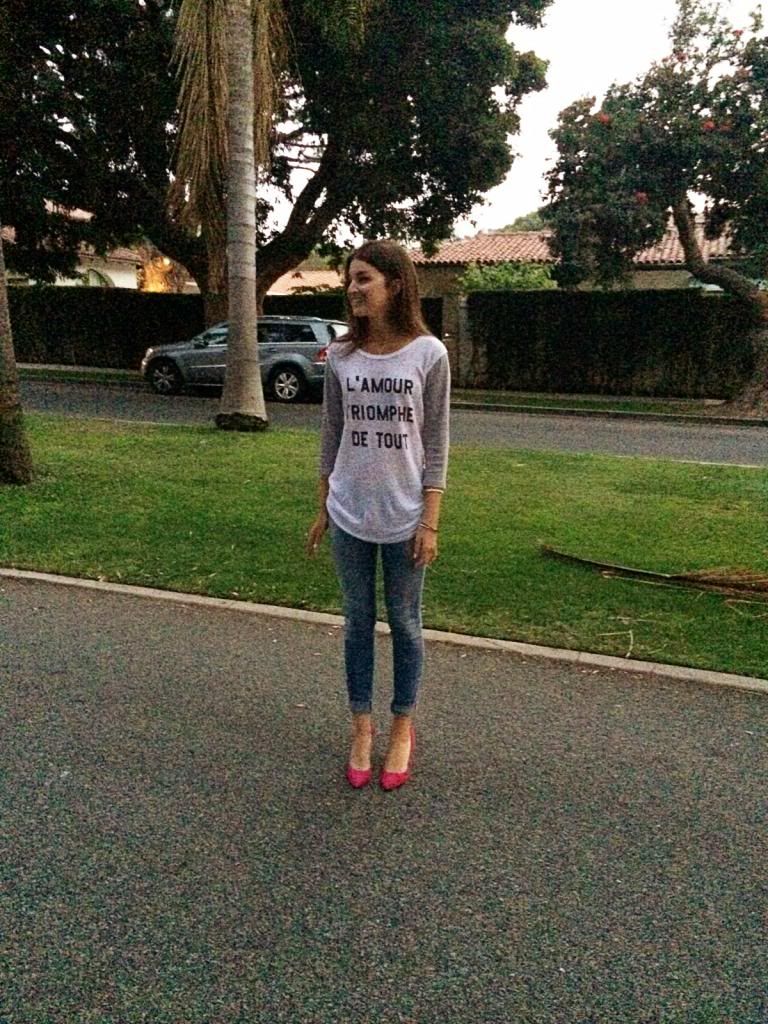 A few months ago, I bought this shirt from J Crew. As a sucker for baseball tees and any writing in french, of course I had to have it. And as suspected, the day I wore it to school, I was constantly asked, "What's your shirt mean?" And I would reply, in the best french accent I could muster, "L'amour triomphe de tout? Love conquers all." Throughout the day I would answer the same way. Once, a friend and I had a laugh about the saying. "Love conquers all? Sure it does." Being seventeen year old teenage girls, our outlook on love can be somewhat cynical. But later that day, as I was running errands, I stopped and asked myself what does the phrase actually mean? If J Crew is going to put it on a tee, there must be some truth to it. I decided that yeah, love does conquer some things. In my life, "love" could look like staying up late texting a certain someone which conquers a good night's sleep. Or it could take the shape of a date night trumping a babysitting request. When you love someone, you sacrifice for them and they win over parts of your life.
But earthly love fades. It doesn't consume all. The one love I know to conquer, to be whole, and to never fade is from above. God's love does conquer all. I believe that with all my heart. It conquers fears and worries and anxiety and even joys or excitement. When you sacrifice your entire life, not just parts, to Jesus, his love will fill your heart and soul. It's this love that keeps me going, it's this love that allows me to love others, and it's this love that I'll humbly sacrifice for. L'amour triomphe de tout? It most certainly does.

"Love is patient, love is kind. It does not envy or boast, it is not proud. It does not dishonor others, it is not self seeking, it is not easily angered, it keeps no record of wrongs. Love does not delight in evil but rejoices with the truth. It always protects, always trusts, always hopes, always perseveres. Love never fails..."
-1 Corinthians 13:4-8
Random picture above represents love... blurry and awkward and happy.